HONORS PROGRAM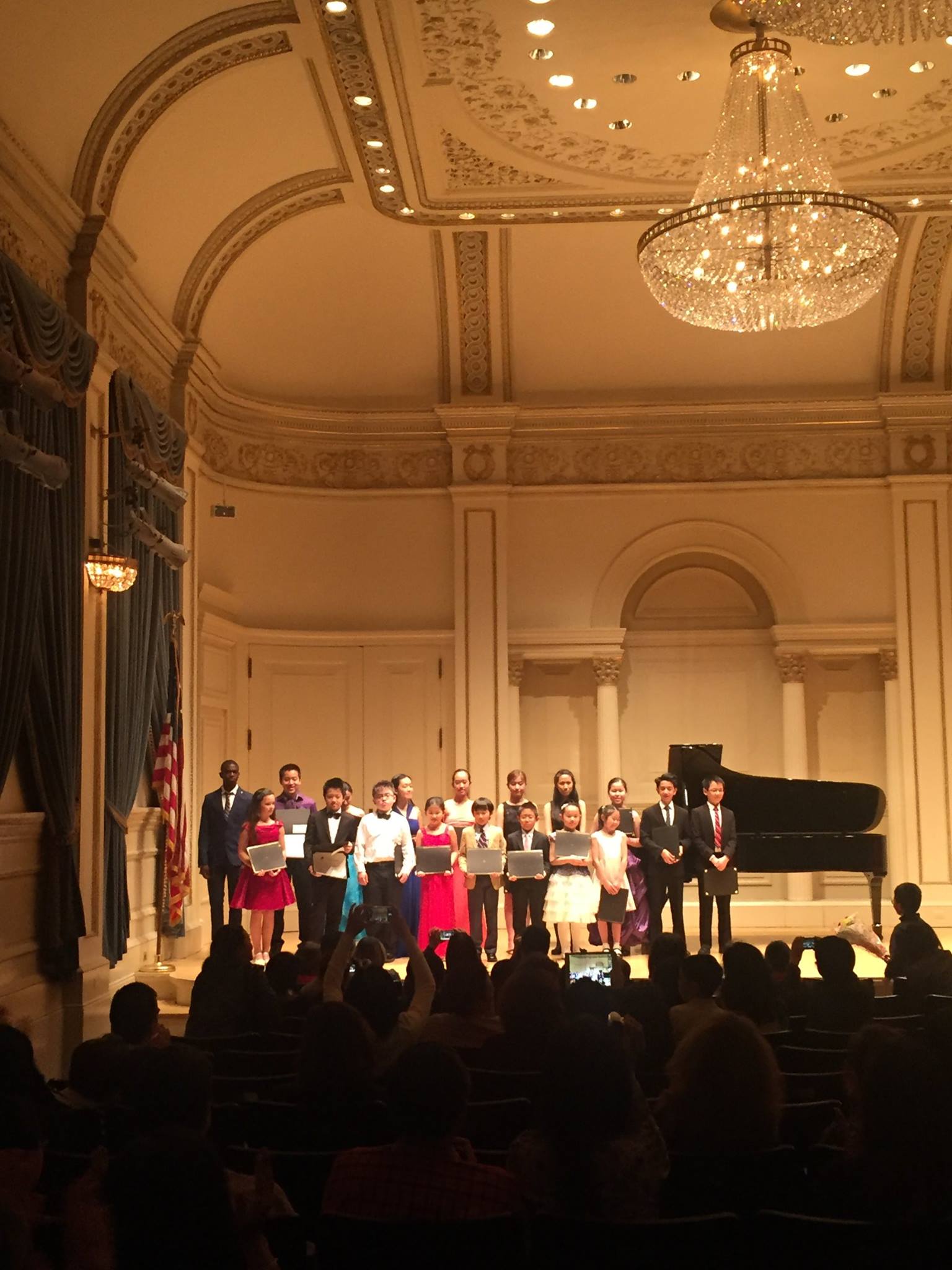 Photo Credit: Martin D. Toub
CELEBRATING MUSICAL EXCELLENCE & ARTISTRY IN MOTION
Margarita Rovenskaya and Pedro Zenteno, Co-Chairs
Application Due: Friday, February 17, 2023, 11:59pm
Video Submission Due:
Friday, February 24, 2023, 11:59pm

Winners' Recital And Awards Ceremony
Monday, March 27, 2023, 8:00pm
Location:
Weill Recital Hall at Carnegie Hall
154 West 57th St, New York, NY 10019
Tickets available from Carnegie Hall Box Office
Eligibility and Age Categories
Students of PTC members are eligible to compete in one of the following age groups, according to their age on April 22, 2022:
Group I – Up to age  9
Group II – Ages 10–12
Group III – Ages 13–15
Group IV – Ages 16–18

Repertoire and Stipulations
Minimum level of repertoire must be comparable to J.S. Bach's Inventions or Short Preludes.
Students may audition with any number of pieces (a movement from a Sonata is considered one piece).
Students may not enter any piece which is longer than 10 minutes.  Teachers must time all compositions.
The maximum time allotted for each audition is 10 minutes. Recorded performances of more than 10 minutes will be disqualified.
All pieces must be memorized.
Each candidate must submit one video recording of their repertoire via Google Drive. If recording multiple pieces, participants must record them all in one take, to emulate a live audition.
Participant Fee
All candidates must pay an audition fee of $150.
Fees are non-refundable after the application due date. 

Adjudication
Students will be evaluated by an international panel of three adjudicators. The judges will provide participants with feedback, and make decisions on awards.
Prizes
First Prizes – Hazel Ghazarian Skaggs Awards
Groups I, II, III and IV $200
Second Prizes – Pauline Styler Awards
Groups I, II, III and IV $150
Third Prizes – Past Presidents' Awards
Group I – Lester B. Major Award $100
Group II – Adele Velo Award $100
Group III – Vera Wills Award $100
Group IV – Beverly Shea Award $100
Special Awards
Regina Rubinoff 20th/21st Century American Composer Awards
Groups I, II, III and IV $100
Dorothy and Sidney Morrow Baroque Composition Awards
Groups I, II, III and IV $100
Regina Rubinoff Living Composer Awards
Groups I, II, III and IV $100
All awards are determined at the full discretion of the judges and will be presented at the conclusion of the Winners' Recital. The judges' decisions are final. Participants are eligible to receive more than one award but may receive First Prize one time only, until they move to a higher age group.
Winners' Recital performers are expected to purchase a package consisting of five (5) tickets to the Winners' Recital, professional photographs, and a certificate (total cost: $200)
Questions: PTCHonors@gmail.com